In our Fall 2021 newsletter, we announced a new research project that revisits FSC's 2019 report "Sustainable Consumption for All" in the light of the Covid-19 pandemic and how it might have impacted different communities. This work is part of our wider research focus on equitable access to healthy, sustainable food.
This project examines how Covid-19 changed the way folks living on a low income access sustainable food. We are especially focused on the experiences of Black and racialized communities, and Indigenous peoples. This study will help us better understand sustainable consumption, as a step towards achieving healthy and sustainable food for all peoples in Canada. Based on this study, we will develop policy proposals to improve the food system and to help Canada meet its commitments to the Sustainable Development Goals (SDGs). Below is a photo from FAO (2015) on how food and agriculture are interlinked with the SDGs.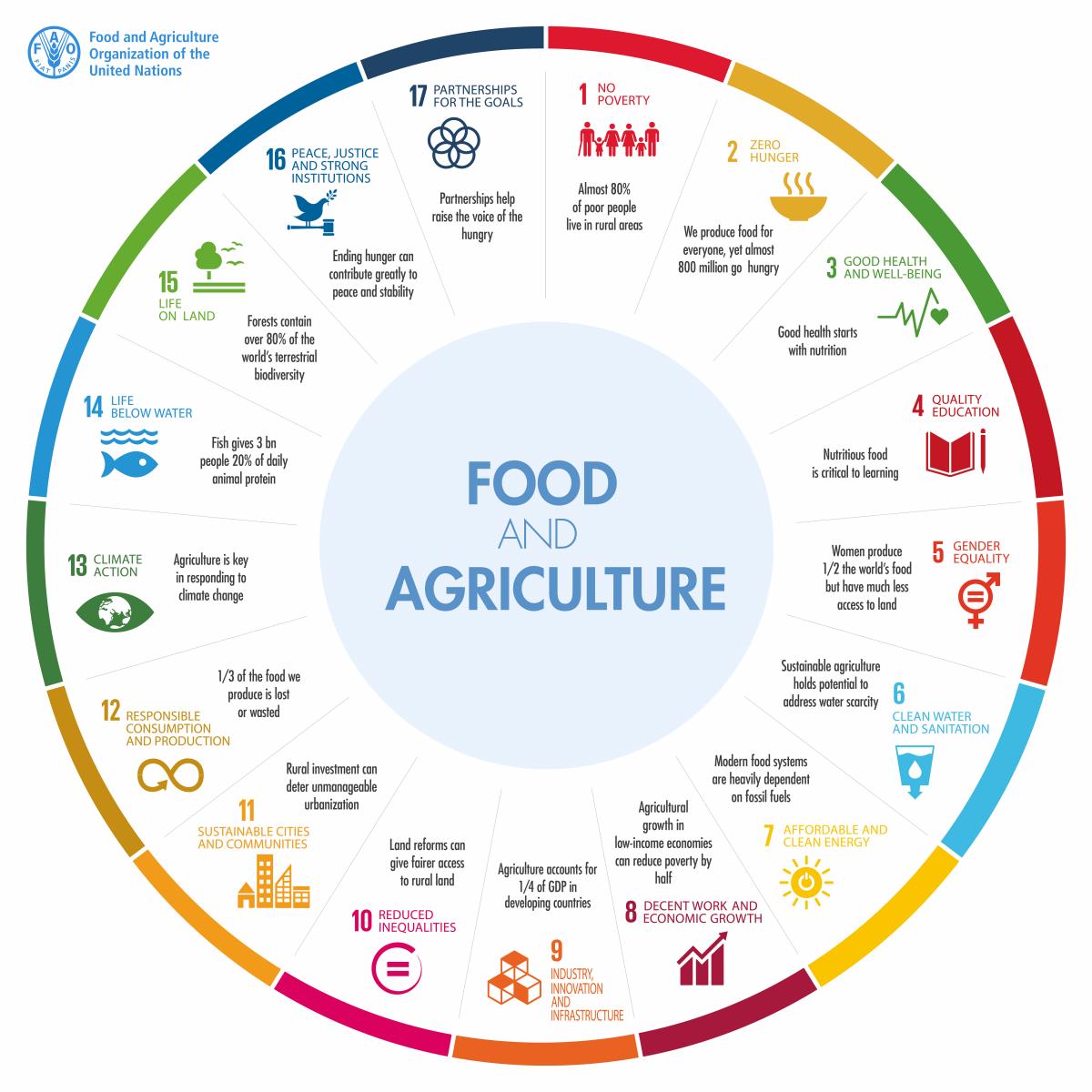 The study began in July 2021 and is led by researcher Dr. Monika Korzun. We have formed an advisory committee made up of 10 community members from coast to coast to coast, and we are also assisted by a third party methodologist, Dr. Ellen Goddard, Professor, Faculty of Agricultural, Life and Environmental Science at the University of Alberta. We are currently conducting literature review to help us frame the impacts of Covid-19 on sustainable consumption and define complex concepts like 'healthy' and 'sustainable'. 
For this project, we will use the Delphi method that surveys individuals who hold diverse expertise, including lived experience, on a specific topic with the goal of arriving at a consensus or understanding a phenomenon in greater depth. Researchers and practitioners use this tool for community-based research and decision-making. It is relatively affordable to implement, does not require specialized technology or training, and allows researchers to learn from highly experienced individuals in a short amount of time. In this study, as in most Delphi studies, the participants are not aware of who the other participants are. They can provide honest expert opinions without the fear of unequal power dynamics, or differences in social identities or past history.
Using this method, we are now conducting interviews with 12 research participants representing different walks of life and different geographic locations in Canada. We expect to share the final results in June 2022, so stay tuned for that.
If you have any questions or are curious to learn more about this project, do not hesitate to contact us.
---
For this research project, FOOD SECURE CANADA has received funding from Innovation, Science and Economic Development Canada's Contributions Program for Non-profit Consumer and Voluntary Organizations. The views expressed are not necessarily those of Innovation, Science and Economic Development Canada or of the Government of Canada.