It took 3,500 people almost three years to come up with A People's Food Policy for Canada. This grassroots response to the crises in our food systems – millions hungry, millions obese, declining numbers of farmers and fishers – offers a menu of workable policies that can put us on the right path.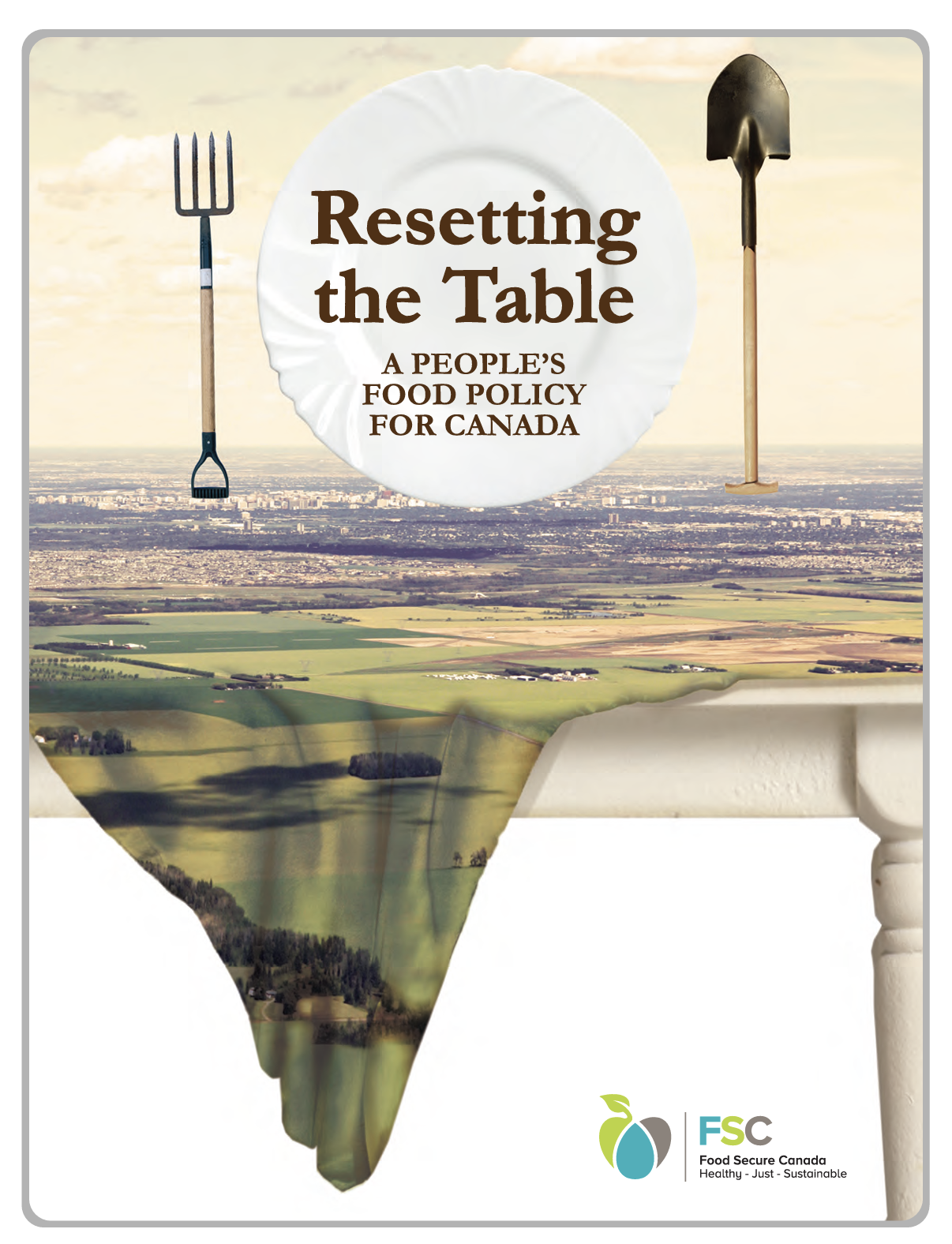 Across Canada, people are increasingly taking actions that are transforming our food system from the ground up. They are connecting directly with food producers, they are revitalizing indigenous food systems, and they are establishing food policy councils.
But these actions need to be translated into policy.
The People's Food Policy's core concern is the concept of food sovereignty. This is an internationally-recognized approach where food is acknowledged as the primary foundation on which healthy lives, communities, economies, and eco-systems rests. Key elements in food sovereignty include:
Ensuring that food is eaten as close as possible to where it is produced (domestic/regional purchasing policies for institutions and large food retailers, community-supported agriculture, local farmers markets, etc.).
Supporting food providers in a widespread shift to ecological production in both urban and rural settings (organic agriculture, community-managed fisheries, indigenous food systems, etc.), including policies for the entry of new farmers into agriculture.
Enacting a strong federal poverty elimination and prevention program, with measurable targets and timelines, to ensure Canadians can better afford healthy food.
Creating a nationally-funded Children and Food strategy (including school meal programs, school gardens, and food literacy programs) to ensure that all children at all times have access to the food required for healthy lives.
Ensuring that the public, especially the most marginalized, are actively involved in decisions that affect the food system.

For detailed policy recommendations and analysis, please refer to A People's Food Policy for Canada as well as the accompanying policy discussion papers below.
Policy Discussion Papers
Ten policy discussion papers of the People's Food Policy capture the many ideas and conversations that came out of our Kitchen Table Talks (2010-2011). They are living documents, recognizing that we are constantly evolving and expanding these ideas. A People's Food Policy for Canada highlights the top policy priorities from each of these papers. A heartfelt congratulations goes out to the many people who contributed their time and wisdom to these papers.
Background
The People's Food Commission, which took place between 1977 and 1980, was part of what inspired the People's Food Policy Project. Its final report was called The Land of Milk and Money
Former FSC Chair Cathleen Kneen recounts how we developed a food sovereignty policy for Canada in: The People's Food Policy Project: Introducing Food Sovereignty in Canada.
Summary: The People's Food Policy Project (2008-2011) mobilized approximately 3,500 people across Canada in a grassroots initiative to develop a food sovereignty policy for Canada. It was remarkable not only for the number of people involved, but because it effectively introduced the concepts of food sovereignty to a Northern, wealthy country. Critically, it "walked the talk" through a process of participation that reflected food sovereignty principles of respect and inclusion of ordinary people, traditional knowledge, and the natural world. As a result, even where the term "food sovereignty" is not used, the essential notion that people can assert control over the decision-making that guides their food systems is now widespread across Canada. Despite the current hostile political climate, the project has had a profound effect beyond the food movement, inspiring a discussion of food policy among the general public.
We hope that by sharing the story of the PFPP and its beginnings, readers will see similarities with their own movements and organizations and the opportunities for using – not replicating – our experience to further their own movement towards food sovereignty in their own locations.