Food Secure Canada was born out of a conference at Ryerson University in Toronto in 2001, where individuals and civil society organizations from every province met to tackle the challenge of food security both at home and abroad. Since that first gathering, other assemblies have taken place all over the country.
With participants from all over the country, the Assemblies are a unique opportunity to engage in a national conversation about our food system in all its aspects, and to meet with hundreds of leading thinkers in the Canadian food scene, including activists, policy makers, businesses, researchers and interested citizens, workers and associations. It is a place to:
build new partnerships and collaborations from across the country
learn from colleagues and get access to cutting-edge analysis
work together on critical national policy issues and campaigns.
2001: The first gathering, Toronto
WORKING TOGETHER: CIVIL SOCIETY INPUT FOR FOOD SECURITY IN CANADA
The first gathering of what was to become Food Secure Canada was held at Ryerson University, Toronto, in June, 2001, to respond to the Federal Government's call for a civil society assessment of its Action Plan for Food Security.
2004: Food Assembly, Winnipeg
GROWING TOGETHER: CULTIVATING FOOD SECURITY IN CANADIAN SOCIETY
From October 14-16, 2004, over 200 people from throughout Canada met in Winnipeg. They represented a diverse group of organizations and individuals working on food security domestically and internationally met in Winnipeg. On October 16 – World Food Day – the conference agreed that an organization would be formed to advocate and speak on food security issues facing Canada. An interim organizing committee was formed to define the shape that the organization would take.

The conference unanimously agreed on three principles:
• Zero hunger
• A sustainable food system
• Healthy and safe food

This organization would be open to individuals and groups. The conference agreed to convene around next World Food Day, tentatively in Waterloo, Ontario to ratify the work of the interim steering committee and to elect officers to the new organization.
2005: National Food Security Assembly, Waterloo
The Waterloo Assembly was held from September 30 – October 1, 2005. It was a jam-packed event with workshops arranged according to FSC's three commitments, each of which came up with action recommendations. These were summarized into an Action Agenda. The Assembly also elected an initial Steering Committee, which spent the next year finalizing the organization's Constitution and Bylaws. Three working papers, on Child Nutrition, the Right to Food, and Food Localism were developed and circulated to the membership for consideration. An International Working Group was also formed to monitor Canada's actions and policies on the global stage.
2006: Binational Food Security Conference, Vancouver
BRIDGING BORDERS TOWARD FOOD SECURITY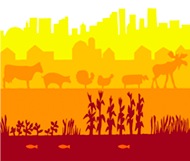 In October 2006, FSC collaborated with the Community Food Security Coalition of the USA to present a bi-national food security conference in Vancouver, BC. About 900 people attended the conference, half of them from Canada, a witness to the growing interest in food security and the strength of the movement across the continent. A new Steering Committee was elected, and the working paper groups were asked to revise their papers according to members' feedback. These have now been adopted as FSC Working Papers. It was also agreed to join the International Alliance Against Hunger and to support a continued moratorium on Terminator Technology.
FSC was formally incorporated as a non-profit organization in October 2006. The new Steering Committee agreed that the Assemblies should be held every other year, recognizing the financial and climate cost of cross-country travel.
2008: National Assembly, Ottawa
RECLAIMING OUR FOOD SYSTEM: A CALL TO ACTION
The 5th FSC Assembly was held in Ottawa in November, 2008, in collaboration with FoodNet Ontario. In addition to 5 plenary sessions and 25 workshops (in both official languages), the more than 300 participants discussed an action plan and agreed to support the People's Food Policy Project as a key activity for the coming two years.
2010: National Assembly, Montréal
WEAVING TOGETHER FOOD POLICY AND COMMUNITY ACTION: AN AGENDA FOR CHANGE
The Assembly brought together more than 350 people, representing dozens of organizations working on issues from Indigenous land rights and sustainable agriculture to food banks and policy change. About one third of the Assembly was devoted to furthering the People's Food Policy Project; other sessions covered a range of topics, including the parallels between government management of farming and fishing industries; youth food justice initiatives; food banks going beyond charity models; and the interconnectedness of Indigenous, feminist, housing and international peasant movements.
2014: National Assembly, Halifax
WAVES OF CHANGE : SUSTAINABLE FOOD FOR ALL
Video credit: Laurent Pasquiet.
2016: National Assembly, Toronto
RESETTING THE TABLE
Resetting the Table, Food Secure Canada's (FSC) 9th Assembly, brought 900 participants passionate about healthy, just and sustainable food together October 13th in Toronto.
This was the largest Canadian gathering advocating for healthy food for all. Its success that would not have been achievable without the amazing participation of hundreds of activists, students, community workers, health professionals, politicians, partner organizations and sponsors. The FSC team is so appreciative of everyone's contribution in the success of the Assembly and applauds your commitment to having a positive impact on the future of our food!
2018: National Assembly, Montreal
RESETTING THE TABLE
Resetting the Table, Food Secure Canada's 10th Assembly took place in Montreal, November 1 – 4, 2018. It was co-hosted by Concordia University and the Concordia Food Coalition and organized in conjunction with Meal Exchange's annual student summit. The 10th Assembly brought together nearly 800 farmers and foodies, chefs and Indigenous leaders, students, activists and businesses, seeding a wealth of new ideas and connections. More than 200 speakers engaged with attendees on a diversity of themes including agroecology, health, food justice, food security, food waste, global food systems, Indigenous food sovereignty, local food economies, food in the North, federal food policy governance, school food, and more. About 25% of the event budget ($65,000) went to support travel and registration for people who could not otherwise attend.
2020: Cultivating Change (virtual)
From November 12 – 18, 2020, hundreds of people from across Turtle Island joined Cultivating Change for a series of online conversations and workshops, to explore the intersections between food systems, anti-racism, decolonization, and environmental justice movements.