Through our 2022 Food For the Rest of Us film screening events, we held discussions to learn about the different ways community organisations and initiatives are creating real change and bringing us closer to achieving the SDGs. The film takes an intimate look at the concept of food sovereignty and how communities, specifically marginalized people, use food and agriculture to free themselves from oppression.
---
May 2022: Discussion with Rachel Cheng, Dimitri Esperance, Gorana Govedarica
At the end of May, Food Secure Canada hosted a screening followed by a discussion with three changemakers – Rachel Cheng, Dimitri Esperance, and Gorana Govedarica.
Please note that English subtitles will be added shortly. In meantime, we invite you to read the article below which reflects some of the major issues raised during the discussion. 
We have also included boxes in the article below that look at these issues through a Sustainable Development Goals framework in an effort to hold our governments accountable for their actions and initiate real change.
The panelists and their involvement in the food movement
Rachel Cheng works with several community organizations, including the Montreal Restaurant Workers Relief Fund and the non-profit organization, Nourish Leadership. "Food is the lens through which I see the world," she shares. Rachel has also launched an event series called Race x Food, which provides a platform to talk about the intersection of cultural heritages and food. 
Dimitri Espérance is the co-founder and executive director of La DAL, a collective of St. Henri residents born in May 2020 thanks to a petition he launched to fight against food insecurity in the western part of the neighborhood. "It was the needs of my community that led me to take on this current responsibility," he states. 
Gorana Govedarica, moderator of the discussion, is a project manager with the Forum sur les Systèmes alimentaires territoriaux (SAT) and has been involved in the sustainable and equitable food systems community for the past seven years. She has worked and collaborated with several key players in the local and national food system, including Food Secure Canada. 
Empowering the local initiatives that are transforming our food system
Food for the Rest of Us introduces us to four local food initiatives: an urban farmer's aquaculture project in Kansas City; a community greenhouse producing fresh produce in the Northwest Territories; an internship program teaching indigenous youth how to produce food sustainably; and a woman Shochet's workshops in Colorado that are reconnecting participants to local meat. Rachel and Dimitri, having founded or worked for initiatives with similar goals, know first-hand the challenges such projects face – and the conditions that can empower them.
When asked how such initiatives can become more prominent and impactful, Rachel mentions that a one-size-fits-all solution to food security and food sovereignty issues is not the answer. "It is essential that each food initiative or project be rooted in the community". This "one-size-fits-all" solution is also challenged by the film.
Rachel highlights the sense of competition that exists among food non-profits due to the limited funding available to these organizations. "Yet all of these initiatives are essential and need to exist." According to Rachel, collaboration, generosity and sharing of resources would increase the impact and ensure the sustainability of these projects.
Competition between food organizations is something that Dimitri has had to deal with since the creation of la DAL. Newer initiatives have less capital, resources and government connections to survive, let alone grow and thrive. Additional funding, along with a better understanding of the types of food initiatives that exist, can strengthen collaborations between community organizations. "To compare a grocery store – which, at the end of the day, is a business; to a food bank – which has the ability to be subsidized to receive food: it's not the same thing."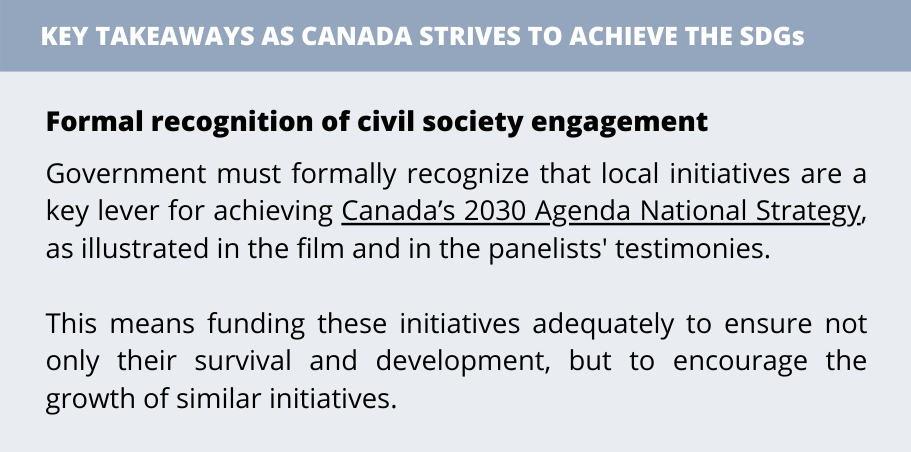 Anti-racism at the core of the food movement
In its portraits of each initiative, the film considers the history of racism and colonization that brought the communities to their respective breaking points. In doing so, it highlights the insidious effects of systemic racism.
"Food is a system", explains Dimitri, "Seeing it this way makes it possible to realize that some people benefit from it, while others are oppressed by it".
Rachel adds that "[I]t's impossible to change the food system without changing foundations that are racist, that discriminate against certain people." She shares that she joined the food movement to fight climate change – but quickly realized that it's impossible to work in food without addressing the systemic elements that harm so many people in our communities.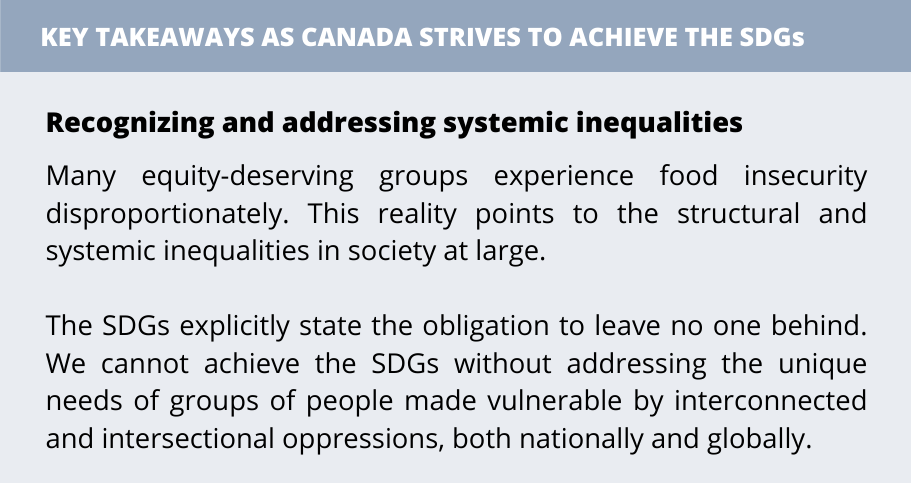 Recognizing food as a fundamental human right
Recognizing food as a fundamental right would imply that government would be held accountable for underfunding food organizations and the unacceptable level of food insecurity and poverty that exists today. "Either government scales up these [local food] initiatives, or empowers communities to do what should have been done in the first place," states Dimitri.
Rachel adds that adopting a social justice lens and identifying the people, companies, and institutions that hold the most power in our society is essential to understanding how the path for a more sustainable food system can be paved. "If we all agree that no one should go to bed at night hungry, then I would like to ask those with the most resources and power how they would like to organize for our basic needs to be met".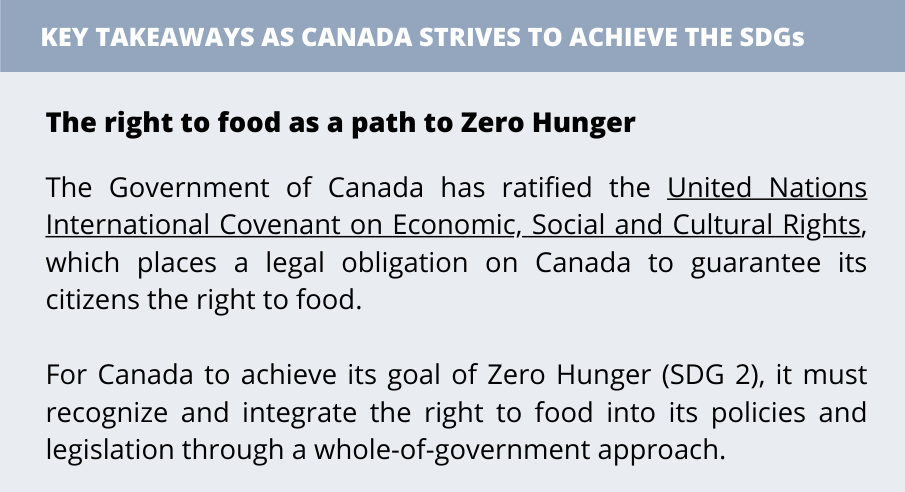 These have been only snippets of a larger conversation that delved deeper into the challenges and catalysers of grassroots food initiatives, the role of anti-racism in food work, and recognizing food as a fundamental human right. We encourage you to watch the video to hear more of what Rachel, Dimitri and Gorana had to say about these and more food-related issues.
If you're still hungry for more, we invite you to take a look at the links we've shared in the box below or to write to us directly at juliette@foodsecurecanada.org with questions or requests.
Further reading
LINKS TO CONTENT REFERRED TO IN THE DISCUSSION
TO LEARN MORE ABOUT THE ROLE OF THE FOOD MOVEMENT IN ACHIEVING THE SDGs, CLICK HERE.
ARTICLES, BOOKS OR VIDEOS ON THE INTERSECTIONS BETWEEN FOOD AND RACE
---
May 2022: Screening at Le Carrefour solidaire
As part of its "Food For The Rest of Us" film screening series, Food Secure Canada partnered with le Carrefour Solidaire and Community Food Centres Canada in May for a second film screening in Montreal. 
FSC and le Carrefour held the event in Montreal's Centre-Sud, a neighborhood that has long been considered a "food desert"1 due to its lack of healthy and affordable food supply. The Carrefour Solidaire is a Centre-Sud-based organization that has, for years, found novel ways to address food insecurity in the area by focusing on social inclusion, education, healthy eating, and empowering residents to drive societal change.
Film-screening participants, who were in large part Centre-Sud residents, shared that the film prompted them to reflect on the gentrification of their neighborhood. Because the film featured local community projects, participants added that they felt inspired to work more closely as a community to support low-income and marginalized individuals in Centre-Sud.
"[W]e can certainly still do great things together by perhaps including a broader reflection on the societal issues we face, as the documentary so clearly showed," said one of the audience members. [Translated from French].
Following the screening, co-producers Tiffany Ayalik and Caroline Cox joined us for an insightful discussion on the importance of antiracism as a core principle of food work, ways toward food sovereignty for equity-deserving communities, and the stories that inspired them to make this film. 
We felt privileged to partner with le Carrefour Solidaire on this project and see first-hand how centralizing the stories, realities, and struggles of those most affected by injustices in the food system inspires communities to take action. We look forward to showcasing more local initiatives as we continue our "Food for the Rest of Us" screening series.
As we work towards the UN's Sustainable Development Goals (SDGs), specifically SDG 2: Zero hunger, we urge the government to recognize that local initiatives are a key lever for addressing deep inequalities and food insecurity. Formally recognizing the role of context-based initiatives means ensuring their survival, development and growth via adequate funding, and encouraging the emergence of similar projects.
1 "Food justice leaders […] urge us to reconceptualize "food deserts" as "food apartheid" by focusing on creating food sovereignty through community-driven solutions and systemic change" – Nina Sevilla, 2021 https://www.nrdc.org/experts/nina-sevilla/food-apartheid-racialized-access-healthy-affordable-food
---
November 2022: Screening in Toronto with the Center for Social Innovation and the Toronto Youth Food Policy Council
After two successful events organized around the film-screening of Food For the Rest of Us, we organized a last screening to extend the learnings. A collaboration between FSC, the Center for Social Innovation, the Toronto Youth Food Policy Council, this post-screening panel was centered around Black and Indigenous Food Sovereignty, as well as the barriers and enablers for both.
Panelists included Ethan Dankert-Lannigan, and Cheyanne Valencia-Hinds from Ojibiikaan Indigenous Cultural Network, and Nicole Austin, Food Sovereignty Engagement Coordinator and Project Lead, Harvest Collective at Toronto Metropolitan University's Urban Farm.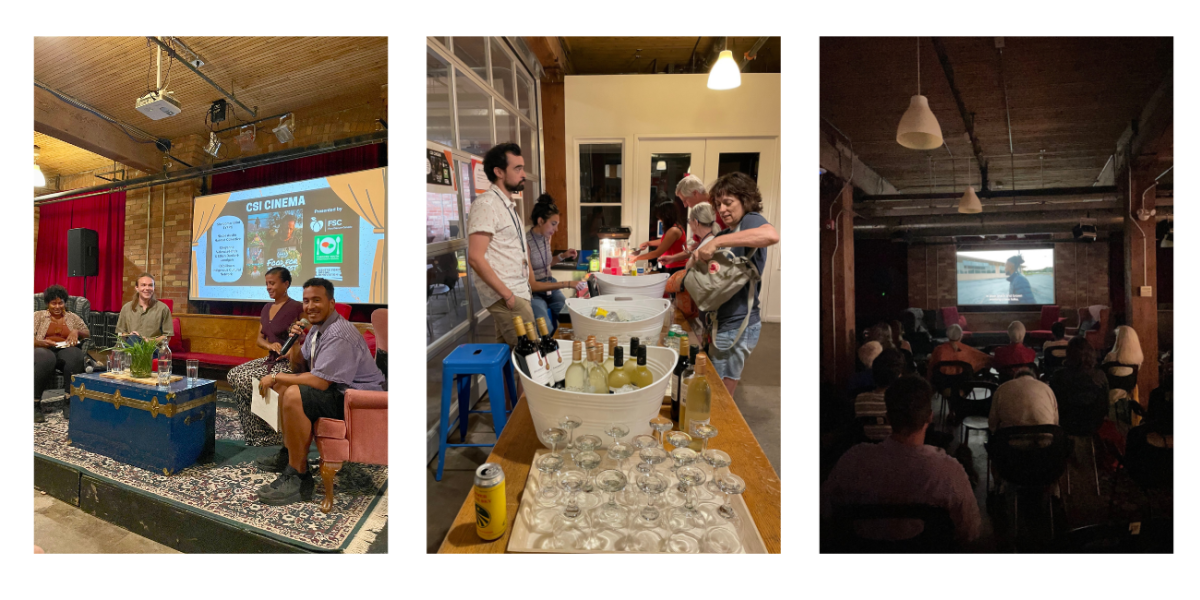 About the speakers
Ethan Dankert-Lannigan and Cheyanne Valencia-Hinds are both Mobile Cultural Coordinators at the Ojibiiikaan Indigenous Cultural Network. Ethan is committed to increasing safe spaces for Two-Spirit and Queer Indigenous families by reclaiming roles in community and Cheyanne works towards achieving food sovereignty and is passionate about learning about food and medicinal plants, as well as land stewardship.
Nicole Austin is the Black Food Sovereignty engagement coordinator and project lead for the Harvest Collective, at Toronto Metropolitan University's Urban Farm. Their work is focused on restorative initiatives, community-building activities, and how Black Food Sovereignty and Black resiliency can transform food systems.
Promoting a just, healthy, and equitable food system
Ojibiiikaan Indigenous Cultural Network, of which Ethan Dankert-Lannigan and Cheyanne Valencia-Hinds are a part of, is an Indigenous-led nonprofit offering land, food and culture based programming in Toronto and the surrounding region. Ojibiikaan means "root" in Anishinaabemowin. With the knowledge that our roots are lifelines that nourish, anchor us, and connect us to the land and to each other, Ojibiikaan works to strengthen our roots through knowledge exchange and land-based projects.
The Toronto Metropolitan University's Urban Farm's Harvest Collective project, of which Nicole Austin is a part of, aims to engage Black students, faculty, staff and the broader community through the sharing of food, from farm to table. The project challenges the systemic racism that persists within contemporary food production, urban agricultural systems and within our institutions by developing opportunities for Black-centric programming, training and cultivation right here on campus.
---